Xaria and I were invited to go to Oamaru with some friends basically to go to a garden market and have a look around... As well as go to a café.
Name: Harbour Street Collective Cafe
Address: 8 Harbour Street, South Hill, Oamaru 9400
Website: https://www.facebook.com/harbourstreetcollective/
We left around 08:30am as the market starts around 10am, leaving Dunedin's (sarcastic mode on) brilliant weather (/sarcastic mode off) and headed off to Oamaru well Weston, which is basically a small township off Oamaru and now nearly a suburb of Oamaru ... yah for suburban sprawl.
Getting to the market there was already a decent crowd already there. I am not a garden person and don't know the difference between a weed and rose... basically to me a weed is anything you don't want in your garden... However you are not here to read about this part... nor are you here to read about that I thought I did pretty well as I don't really like crowds... too many people...




We then went into Oamaru to the local city market and had a quick look around before deciding to go for a coffee. There was a sign a cross the road that said coffee... so that was a good start... however it wasn't a cafe... but they sold lots of old stuff so we had to look around...
---
READ MORE
---
The brewery was just across the road (Scotts Brewing Co) so we tried there next, and while they had coffee there was no cabinet or counter serve over food, only menu... which is one of our criterias. So that ruled them out...  So third attempt we wandered down Harbour Street or commonly know as Steampunk HQ in the Victorian Precinct and found the "Harbour Street Collective Cafe"
Now it was getting later than normal for us to do the cafe thing as we normally would do it around morning smoko or just before, and this time we were nearing lunch.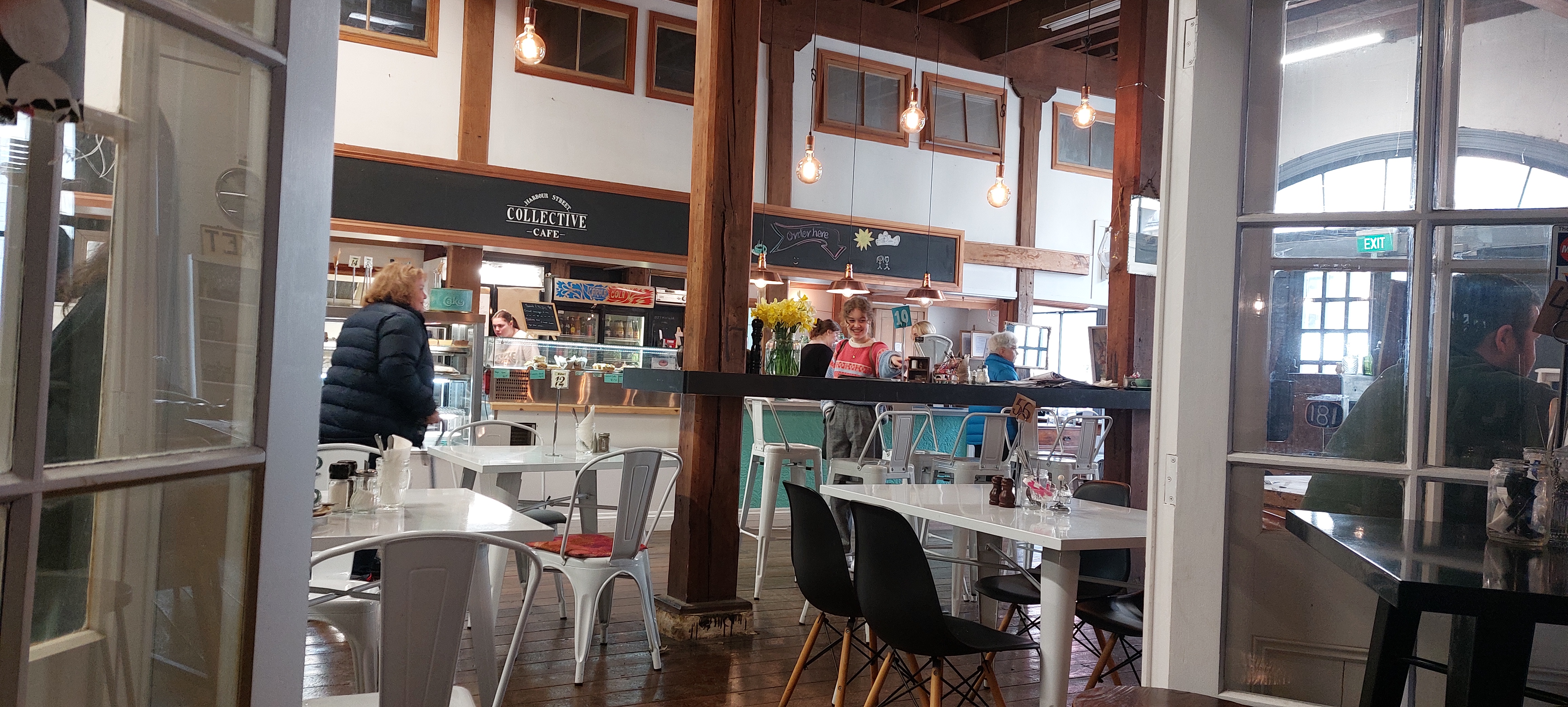 Harbour Street Collective Cafe had a range of cabinet food. Mick and I order a vegan style sausage roll while the girls ordered muffins, Xaria and I also had our standard coffees and Mick got an Iced Chocolate and Sue a Hot Chocolate.
The muffins arrived pretty quick and then followed by the sausage rolls with a bit of a wait for our coffees and Sue's hot Chocolate nearly finishing the rolls and muffins before they arrived. 
The sausage roll while it was okay, it was micro-waved which makes the pastry go a bit "meh" and not crispy. Some people like this and it doesn't bother me when I heat my own pastries at home but don't really expect it from a cafe? That being said though the sausage rolls are most definitely not your standard mass produced and bulk buy, run of the mill sausage roll. I can't remember exactly but had walnut in it. However there was no side salad or side of sauce to accompany it. Xaria didn't get one because whilst not allergic to nuts she just doesn't like them. (Other than nutty me)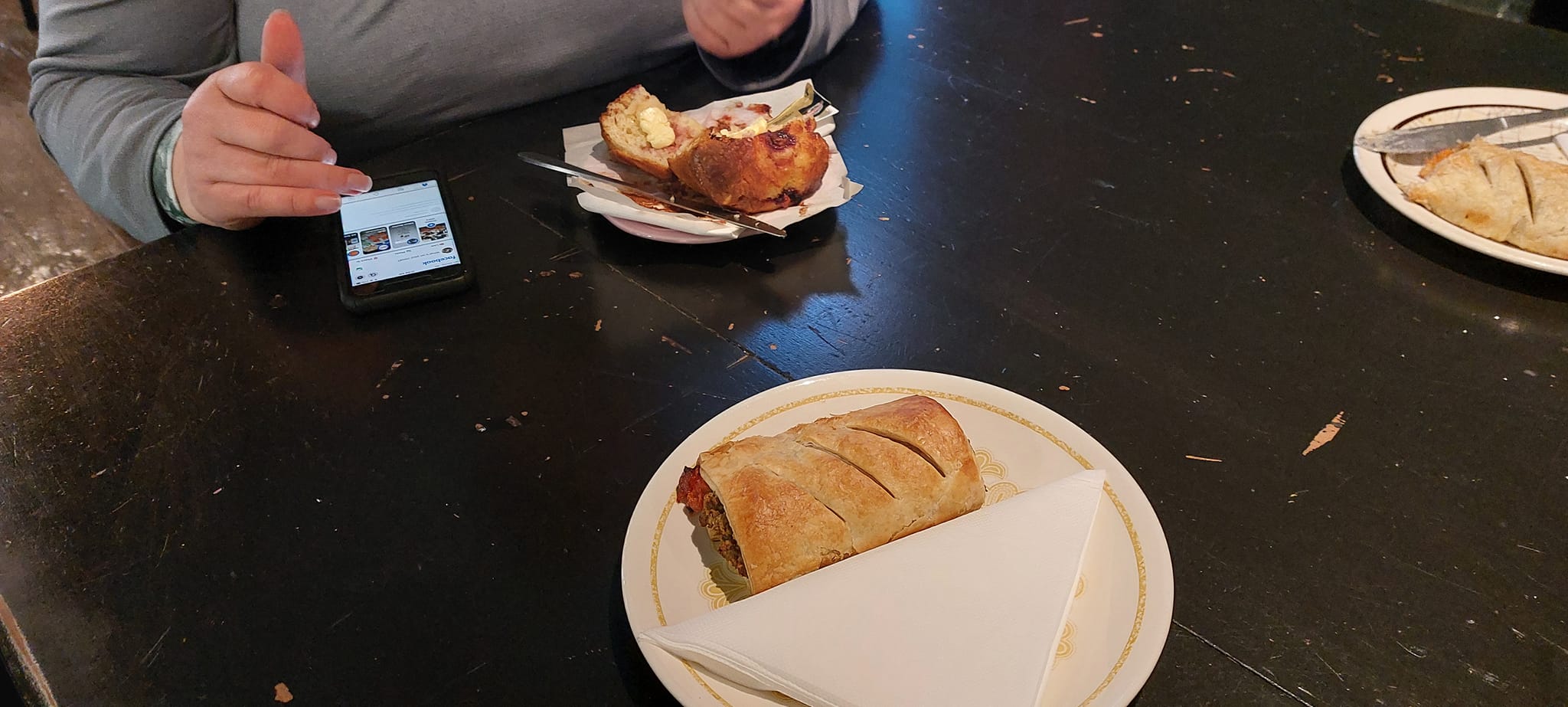 Our drinks finally arrived, well the hot drinks anyway, both Xaria and I said they weren't really hot enough and I found mind a tad weak and just luke warm. Mick had to wait what seemed like ages for his iced chocolate drink but he did seem to enjoy it. (To be fair here I forgot to ask if he did or not.)

The service was friendly enough and prices seemed reasonable and it did have the quirkiness additive to add to the cafe feel to it and culture and experience. However, it's just we were not really too happy with the end product, micro-waved pastry, luke warm and pretty weak coffee as well as Mick having to wait as long as he did for his drink. Would I do back there? Well I probably would, just would not be in a hurry to do so if I am completely honest.
Spoiler alert... On the way home we found a nice little treat... So you will have to wait till Xaria gets a round to it and writes a bit of a review for it hopefully in the next day or so...