It's starting to feel real for Captain Simon Rooke, Commanding Officer designate of Maritime Sustainability Capability (MSC) vessel AOTEAROA, which is nearing completion in South Korea.
It's probably starting to feel that way for the nine members of AOTEAROA's Ship's Company, based in Ulsan as part of the 16-strong MSC Integrated Project Team as AOTEAROA progresses her sea trials off the coast of Ulsan. At time of writing last month, the builders' sea trials were complete, and Hyundai Heavy Industries were now entering contractor sea trials, demonstrating a range of required criteria to the customer, the Ministry of Defence.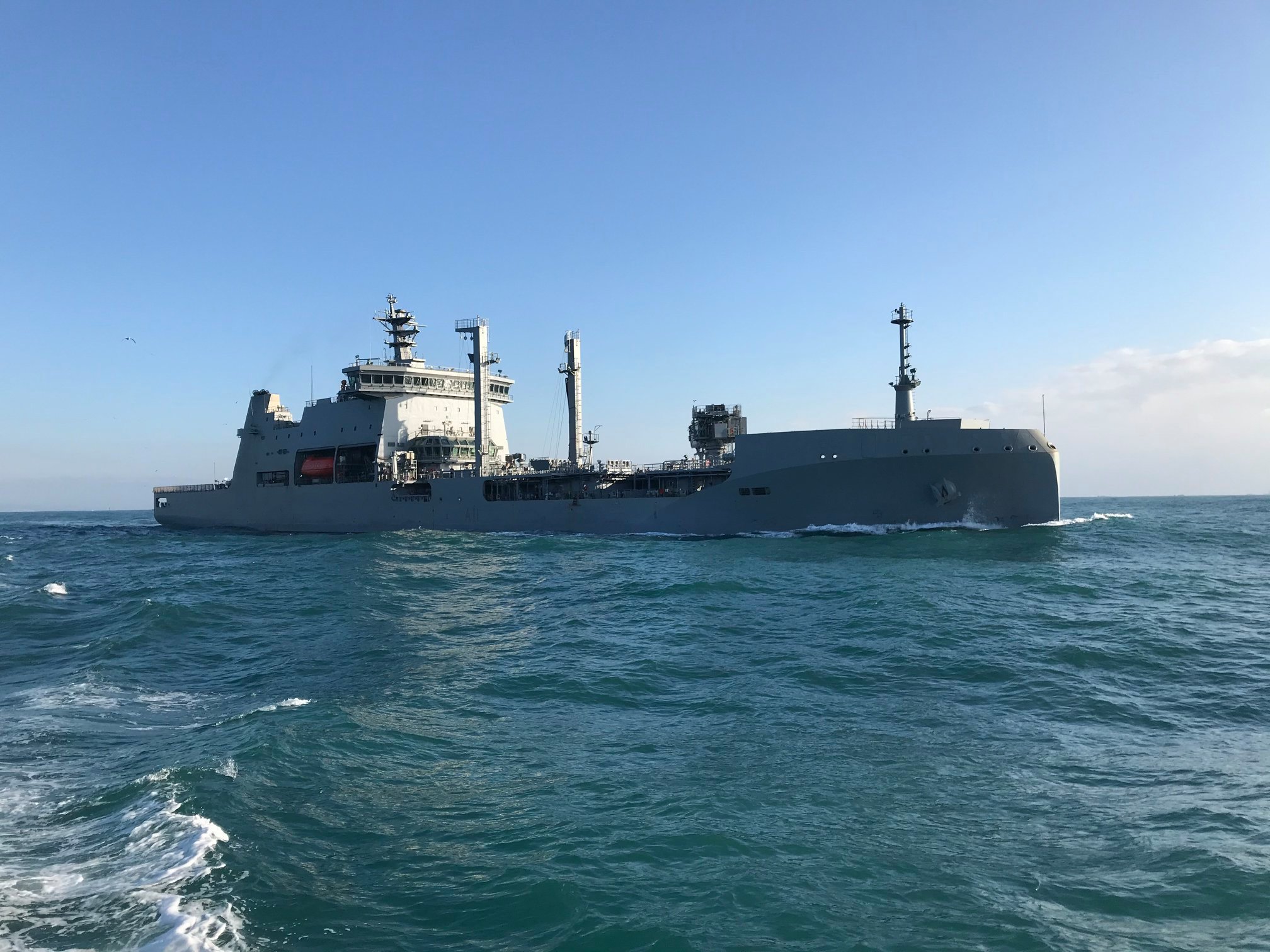 "After contractor trials, fitting out continues and if required, rectifications, before another short period at sea in April for confirmation trials," says CAPT Rooke. "She'll have a month alongside, from April to May, for final works including a docking for a final paint touch-up. The schedule has MoD deciding whether to accept the ship in early May, and all being well she'll sail shortly thereafter." A Hyundai delivery crew will sail AOTEAROA to New Zealand, arriving at the end of May or early June. In the photo, AOTEAROA sits properly at her waterline, due to the ballast water tanks being full, although AOTEAROA does not have any cargo fuel on board. "In this case it was to simulate full load condition for the handling and manoeuvring aspects of the trials HHI were undertaking."
Ballast tanks are separate from fuel tanks, he says. "When the ship is full of fuel, generally speaking the ballast tanks are empty, but if we need to, as fuel is used or issued to other ships, we may choose to ballast down. The consideration is usually balancing the stability and sea keeping considerations with the fact that the greater the total displacement, generally speaking more power is required to push it through the water."

The ship's total complement is 65, with 35 posted to AOTEAROA so far. Of the crew, the engineers have been the most involved in Korea, while other crew are based in Auckland preparing for delivery, and attending training courses, which have been in New Zealand, Korea, Norway and the United Kingdom. A large number of the junior members of the Ship's Company will join by early May. It's CAPT Rooke's aim to give as many of his Ship's Company sea time on AOTEAROA as he can, prior to her arrival in New Zealand. This means rotating his Ship's Company on board as AOTEAROA is tested as sea, including the delivery voyage to New Zealand. Maritime requirements for a tanker means that only 12 passengers are allowed in 'MV' AOTEAROA, but he's not planning on being one of them. "I'll come out on the pilot boat, or I'll be standing on the wharf as she comes alongside. I'm getting my familiarity training during the Contractor Sea trials. It's important to me to give other members of the crew a chance to also learn from the sea time during the delivery voyage."
There won't be an opportunity, prior to the delivery voyage, for the ship to test her Replenishment at Sea (RAS) capability. CAPT Rooke has seen AOTEAROA's RAS gear extended, but only in trials on land. "Progressive release of capability including RAS will occur during Introduction Into Service once our ship is Commissioned."
---
---
However, they will test 'replenishment station keeping' during the sea trials, with a HHI-built frigate, destined for the Philippines Navy, planned to conduct RAS Approaches. "HHI will station the patrol frigate about 40 metres off the beam, with one of our navigators on board so we can get observations of how AOTEAROA 'feels' to be alongside, from the receiving ship's perspective."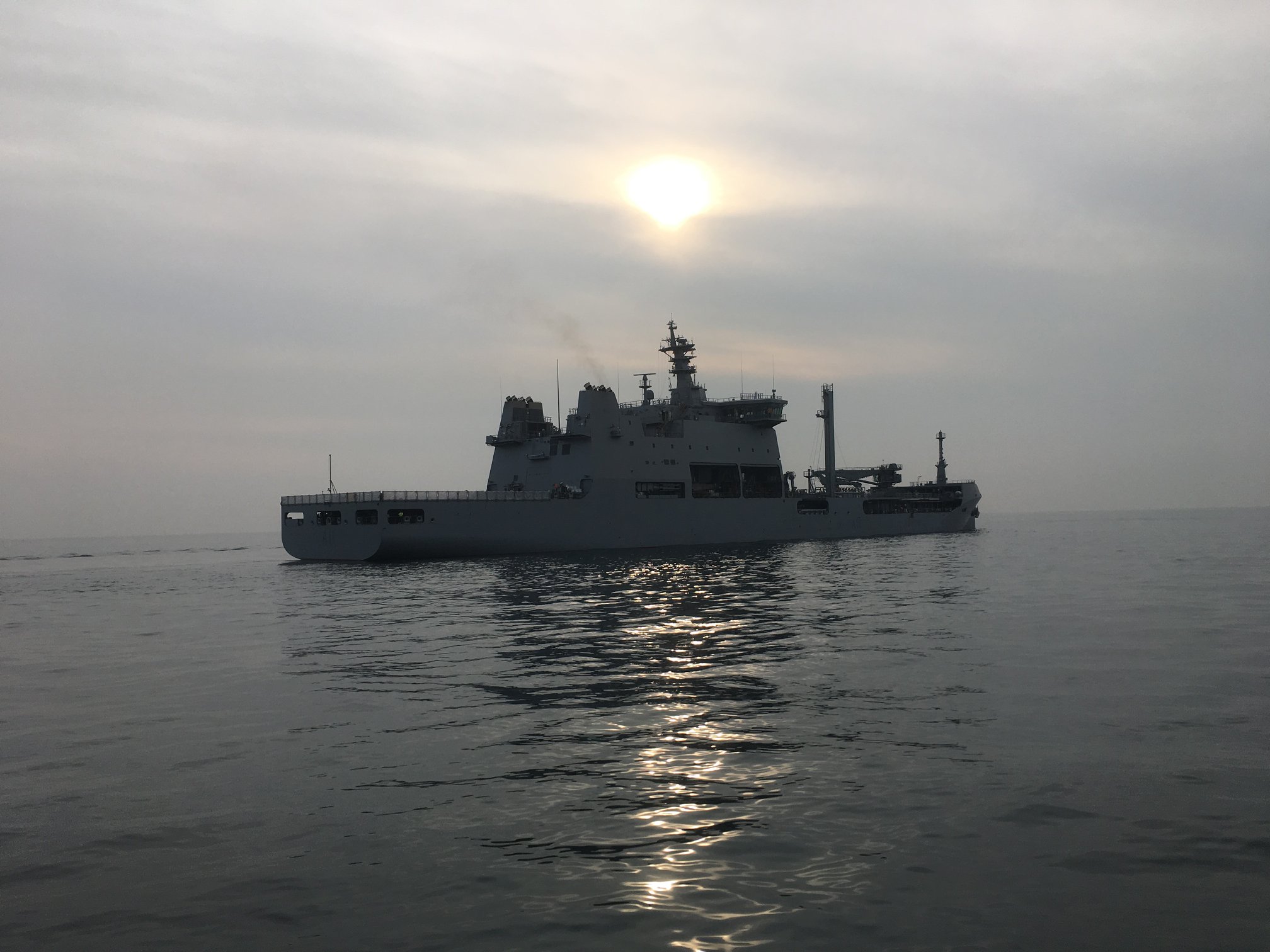 AOTEAROA's commissioning date is 18 June, which is during the customisation period after delivery. There is also plenty of crew training, before starting her Sea Acceptance Readiness Checks (SARCs). "It's three months, but I guarantee you it will feel much shorter for the Ship's Company. The good part is we'll have tours for our people to see our Navy's newest ship – I'm told MANAWANUI can't wait to hand the torch over as the 'tour' ship." The 2020 diary includes visits to Wellington and the ship's ceremonial homeport, New Plymouth. In 2021 the ship will practise RAS evolutions with the newly-returned HMNZS TE KAHA.
In January 2022, AOTEAROA will travel to McMurdo in Antarctica, as a modern polar-class vessel. "It sounds like a long way off, but with so much capability that needs to be safely and fully realised, AOTEAROA will be very busy between delivery and deploying to Antarctica."

Navy Today
https://bit.ly/NavyToday-240?fbclid=IwAR292oTxNV5fDFBKAjQneeWblsd2Ifh1gllBtaEKavW0y2T6-d4EsRK8lzo