Where did we go today?... well I guess you read the title and already know. Well first I had to get my new glasses fitted and make sure they fit well and the prescription was right before we went to our cafescapade adventure.
Name: The Galley Cafe & Bar
Address: 36 George Street, Port Chalmers, Dunedin 9023
Website: https://www.facebook.com/thegalleycafeandbar
We had a nice drive out to Port Chalmers and commented that it was on Friday we would probably not have gone as Friday was a bad ice frosty morning and we know some areas out around and past Ravensbourne. However today was fine.
When we said we were going to come to the Galleey Cafe some of our friends were a little annoyed as they were going to another cafe, and this is one of their favorites. That is always a good sign.
Finding a park and walking into the cafe we were instantly greeted with a "Good morning" which we returned in kind. The server then ask "Are we here to eat in or take away?"  to which we replied to "Eat in thanks" which was followed up by "Menu or cabinet food today?" Of course you already know our answer. He the replied "If you would like to just look over the selection in the cabinet to decide, then find a seat and I will come and take your order."
There was a good selection of cabinet or serve over counter food, from scones and sausage rolls to fill rolls etc to your sweet cakes and biscuits etc.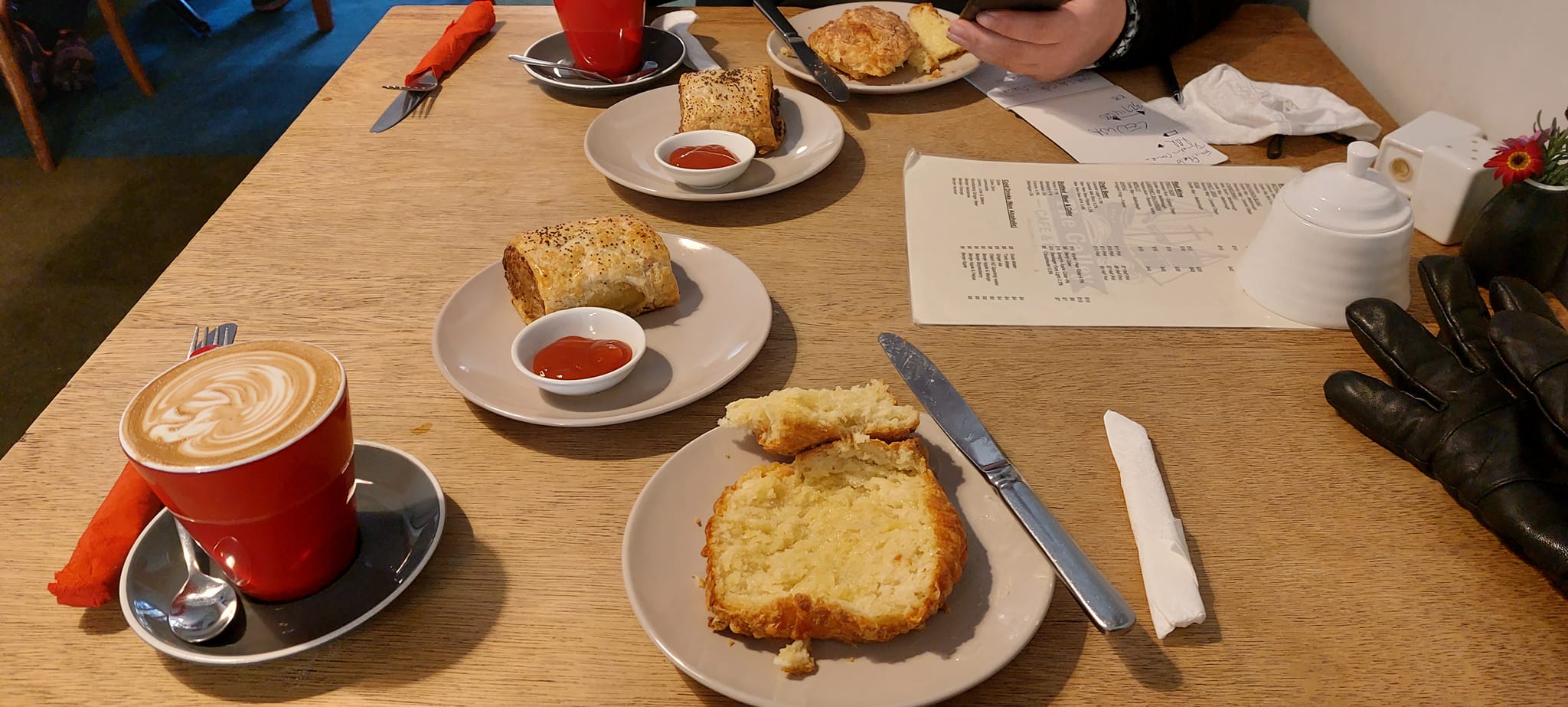 We found a table that was situated under a heater so that was a good move on Xaria's. A few minutes later the waiter came to take our orders and today was cheese scone, sausage roll and our coffees. There were a few tables that were reserved so was good that we came early.
---
READ MORE
---
Again being pretty early (ish) our scones came pretty quickly and we were straight in to cutting them to butter them up and get that gooey goodness. Our coffee's arrived next followed by our sausage rolls. The Sausage roll came with a side of sauce and but also had the option of a side of salad as well.
The scones were pretty darn good if you asked me and i really enjoyed the sausage roll.
While we were eating the waiter came over and said they were about to turn on some machine which was situated just behind the wall we were sitting by, and said that it may vibrate a little. Xaria felt a little bit of vibration but not annoying and to be fair I hardly even heard or noticed it when they turned it on, but it was nice that they told us.
The Galley Cafe and Bar did have a garden area seating a couple of tables out the front as well but today was a little cool for that and the heater was required. However that would be nice during the summer.
Over all we really enjoyed our visit The Galley Cafe and Bar