The Royal New Zealand Navy (RNZN)'s newest vessel, the future HMNZS Aotearoa (A11), sailed into Auckland Harbour on June 26 following her 15 day journey from Ulsan, South Korea.
The fleet tanker and replenishment ship was built by South Korean shipbuilder, Hyundai Heavy Industries (HHI) under the RNZN's Maritime Sustainment Capability (MSC) program.

The vessel was welcomed at Waitematā Harbour with a flyby by two C-130 Hercules and a P-3 Orion aircraft.

HHI started the construction of the vessel with a steel cutting ceremony on Jan. 31, 2018, and laid the keel for the vessel on Aug. 13 the same year with the launching taking place in April 2019.
The vessel was christened as "HMNZS Aotearoa" during a ceremony at the Hyundai Shipyard in Ulsan, South Korea on Oct. 25, 2019.  She bears New Zealand's Māori name "Aotearoa" which is commonly translated as "the land of the long white cloud". The ship's name is also a deliberate nod to the famous battle cruiser HMS New Zealand, which took part in three maritime battles in the First World War.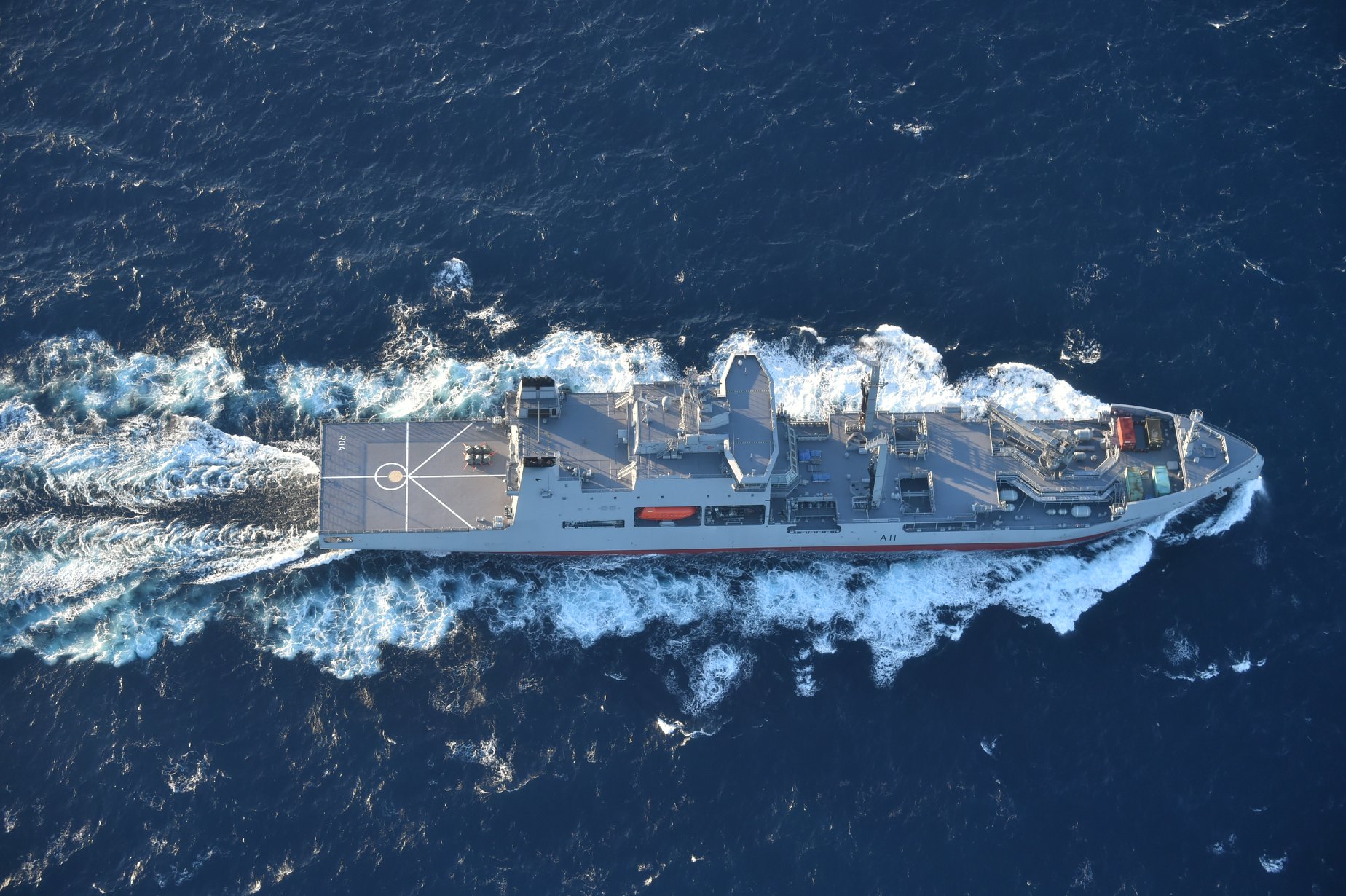 HMNZS Aotearoa will be formally commissioned at the Devonport Naval Base next month. She will replace RNZN's now-decommissioned fleet oiler HMNZS Endeavour (A11).
With a displacement of around 24,000 tons and a length of 173 meters, HMNZS Aotearoa will be the biggest ship ever operated by the New Zealand Navy. The fleet tanker and supply ship will be able to refuel ships, carry and refuel helicopters, produce and store water, and store and transport bulk goods.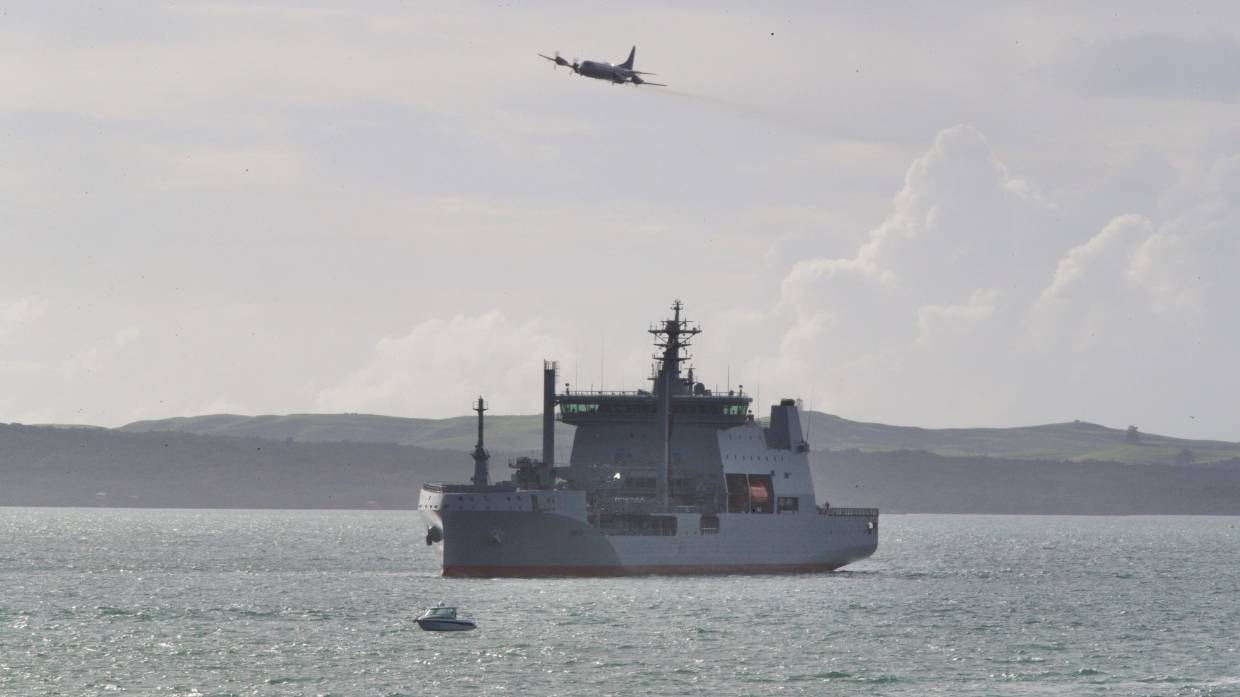 The ship can hold 8,000 tons of fuel for ships, 1500 tons of aviation fuel, 250 tons of drinking water, eight standardized 20-foot containers for food, and four others with ammunition. A crane with a load capacity of 25 tonnes will be used to handle the cargo. There will be one supply station on each side, so the tanker will be able to supply two ships at once. It will also be equipped with desalination equipment to produce up to 100 tons of drinking water per day – critical when providing humanitarian aid and disaster relief (HADR).
HMNZS Aotearoa will be a world-first naval "Environship", with Hyundai using the Rolls-Royce Environship concept design under license. The design incorporates a new wave-piercing hull, which reduces resistance and lowers fuel use, while its combined diesel-electric and diesel propulsion plant has lower fuel emissions than older vessels. The Combined Diesel Electric and Diesel (CODLAD) propulsion system of the ship uses two Bergen main engines and four MTU diesel generators and enables a top speed of the vessel will be around 16 knots.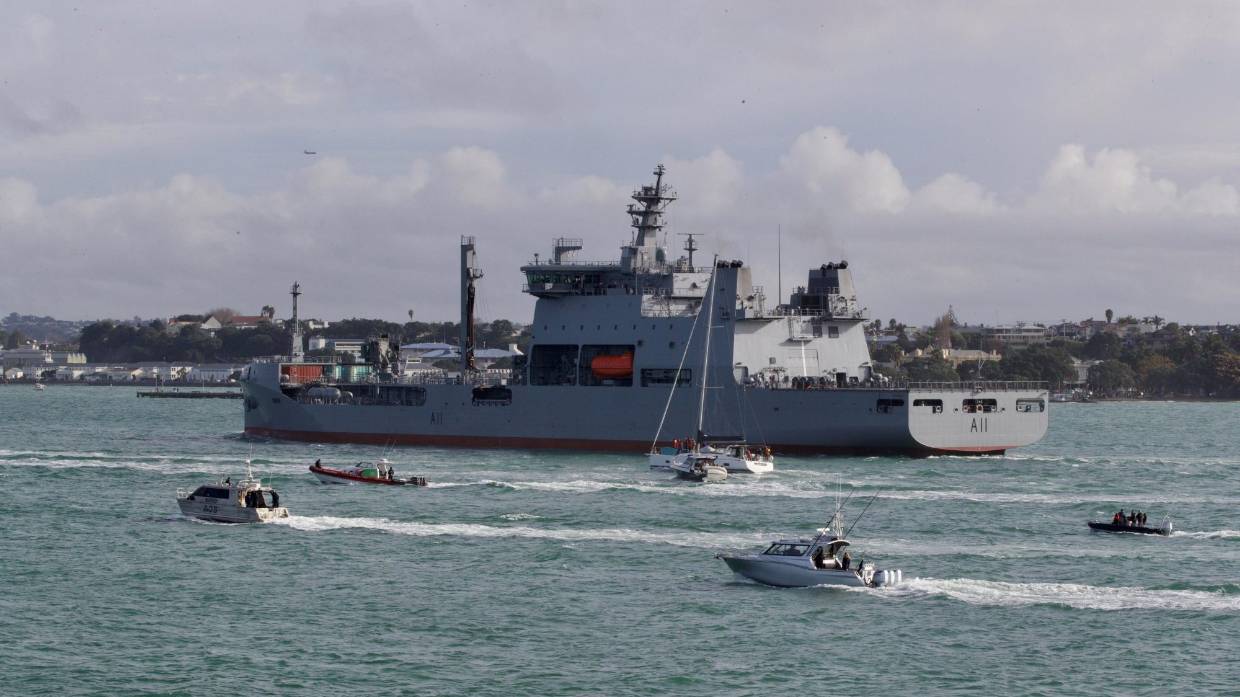 The tanker will be ice-strengthened and 'winterized' for operations in Antarctica and is designed for Polar Class 6 resistance. This will allow the ship to deliver fuel and other goods to support the Scott Base and McMurdo Station, during the summer months once an icebreaker has cleared a path. HMNZS Endeavour was not Antarctic-capable.
The armament of Aotearoa consists of a 20mm Mk.15 Phalanx close-in weapon system (CIWS) and two Mini Typhoon Remote Weapon System (RWS). The vessel will carry two Juliet 3 (J3) Water Jet rigid-hulled inflatable boat (RHIB). There will be a landing area and hangar for one NH90 helicopter on the ship.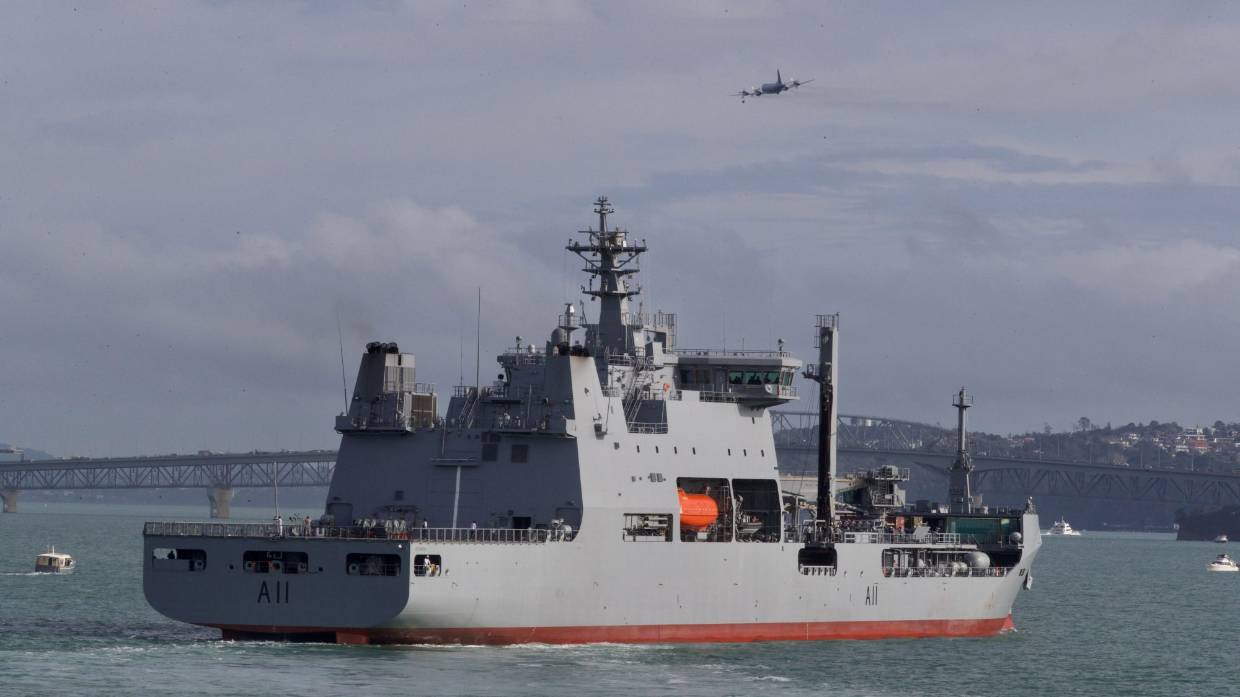 The half-billion-dollar HMNZS Aotearoa is due after sailing from South Korea where it was constructed.
The ship is a replacement for HMNZS Endeavour, a fleet tanker which was decommissioned in 2017 after three decades of service.
The 24,000 tonne Aotearoa will be used to support NZDF operations and for humanitarian aid and disaster relief.
The ship can carry up to 22 twenty-foot containers and has high capacity generation plants to make 100 tonnes of fresh water a day.
It comes with a promise it can go anywhere in the world and that it will be an important part of Antarctic operations and monitoring in the Southern Ocean.
It has twice the displacement of the Endeavour and can carry almost a third more fuel.
The ship is also classed as an "Environship" which means it has a wave-piercing hull to cut resistance and fuel use.
It also puts out lower emissions compared with older ships.
There are 39 people on board from the ship's maker, Hyundai Heavy Industries, and 10 from the NZDF and Ministry of Defence.
They all received a negative Covid-19 test before being allowed to leave South Korea and will be tested again before being allowed to mix with others once the ship berths in Auckland.
Those on board will have effectively been in isolation for 16 days.
Defence Minister Ron Mark said while most work has been done in South Korea, final testing of specialised military systems will be done here.
"Since the first steel was cut in 2018 everyone involved in her build, testing and sea trials have never lost sight of this moment and it is worth celebrating," he said.
The NZDF says police, Coastguard, Harbour Master and Navy boats will all be out on the water with the public flotilla escorting the Aotearoa in.
9.30am Welcoming flotilla as Aotearoa enters harbour
10.40am An Air Force flypast
Class Auxiliary Oiler Replenishment (AOR)
Shipbuilder Hyundai Heavy Industries, Ulsan, South Korea
Propulsion Combined Diesel Electric and Diesel (CODLAD) provided by 2 x Bergen B33:45L9P diesels supplemented by 2 x electric power take in motors
Length 173.2 metres Beam 24.5 metres
Draught 8.4 metres
Displacement 26,000 tonnes
Range 6,750 nautical miles
Design speed 16 knots
Core Crew 64 Bunks 100 (including 2 in the sick bay and a VIP cabin)