As the National Ducati Rally didn't go ahead this year, in March all regional club nights will unite for the National Ducati REBOUND! 
So we will go around the block from Dunedin to Outram, Middlemarch, then up Historic Stanley's Hotel Macreas.
So we meetup out at Mosgiel I fill up at the Z station... as I couldn't remember if it was Z or BP. Just as I was looking on the Facebook machine looking for the meet up area, when another ducati went past and yelled out "at the BP..."

So I guess it was BP not Z ... got it...
So I climbed aboard my mighty steed (a 2002 Ducati ST4s) and proceeded down to the BP station. Upon arrival a few others were there. It wasn't a big group ride... maybe six bikes in total. To fair and honest I am not to fond of large group rides, especially with people and riders I don't know or have never ridden with before.
Our first regroup was Middlemarch... I said I will happy to be tail end charlie... and there is a variety of reasons why I don't mind;
If I want to go a bit slower I can.
It also means I can

purposely

drop back and have a play through the twisties while catching up. 
I can also stop for a photo or two if I want to and not hold any one up.
If there are slower riders I don't mind just riding with them etc.
Means I can have a look at the scenery and just enjoy a cruise if I want to.
So today it was mainly option b. today I dropped back and played in the twisties but being tail end charlie you are always playing catch up. Well I got stuck behind a Ute towing a caravan then car and trailer... then I caught up with another bike and for a while I it was one the group, however on closer look  I said oh!... no it's not one our group... so I passed when and where I could and carried on to Middlemarch to catch up with the group..
We regrouped and headed off... well half the group headedoff, however one of the members on a 1098 had the "Ducati Difference" option installed and operating and it didn't want to start... he did have a jump kit and got the beast up and running but we noticed it wasn't really charging the battery and was slowly dropping in voltage, so he decided he best head back and hope and pray he has enough charge.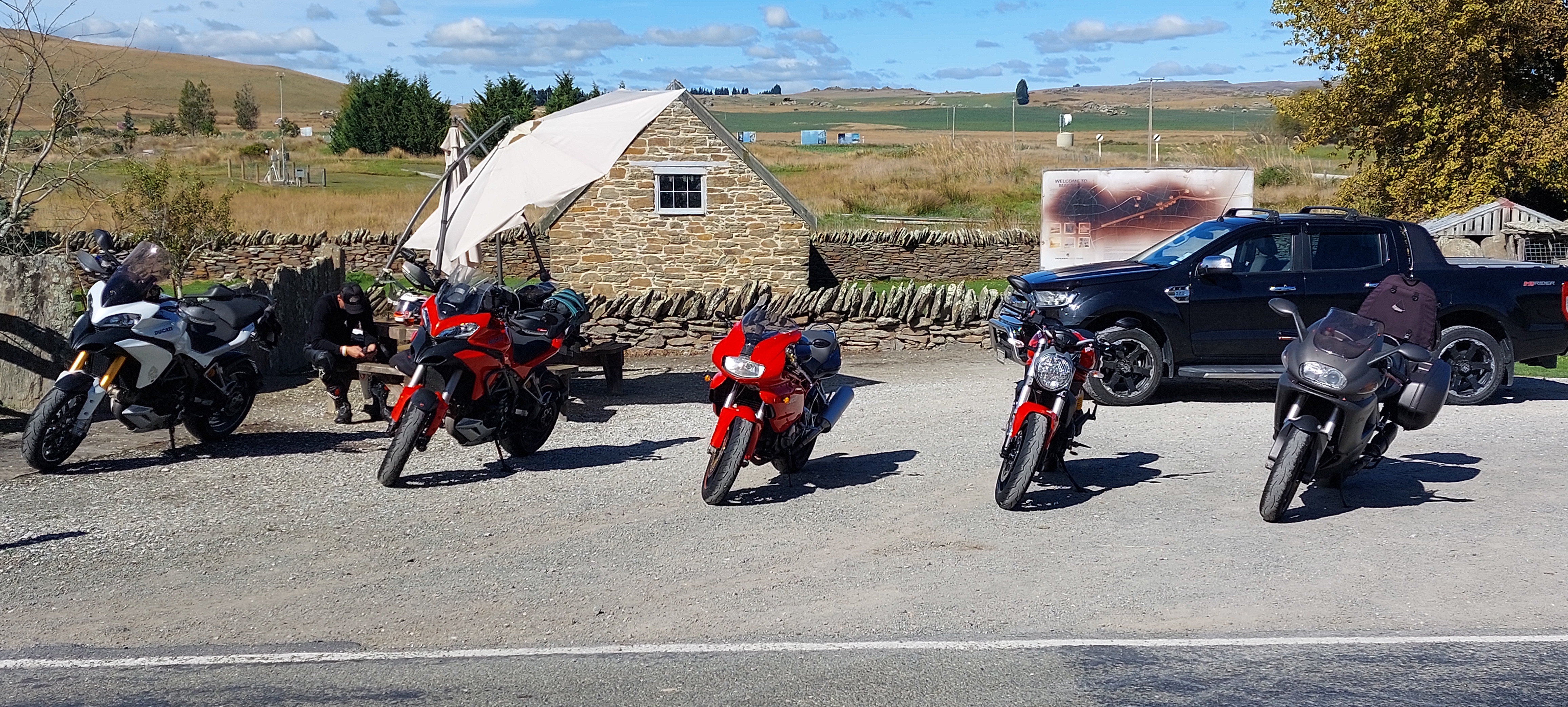 The rest of us headed off, and on the long straights I buttoned off a bit as I know many times the Po Po can sit there in the bush with the radar pointed at you. However today was all good and picked up my speed a little but you know not over 104 kph...

We turned off to go up and over to Macreas Flat to the Stanley Tavern where we stopped for a bit to eat. and bit of a photo shoot.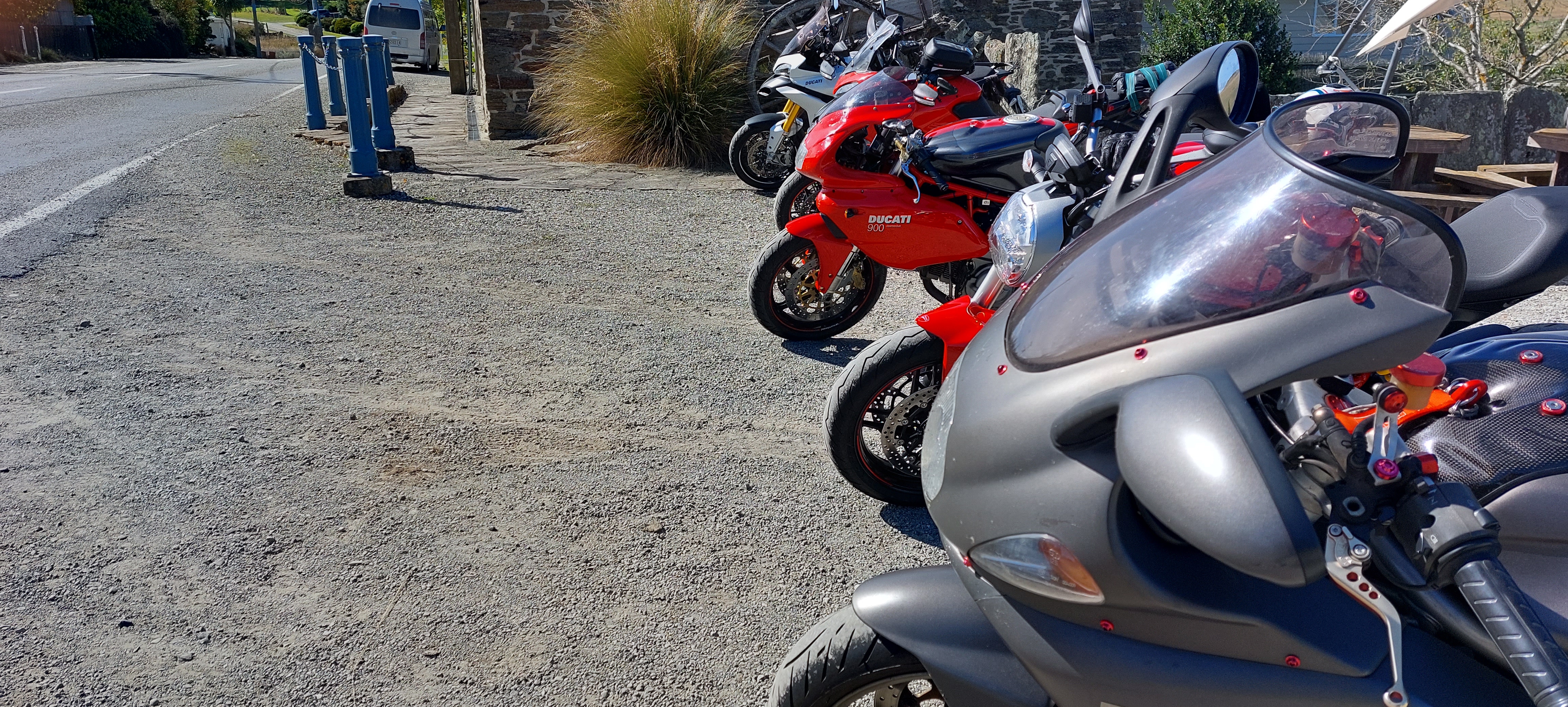 At Macreas Tavern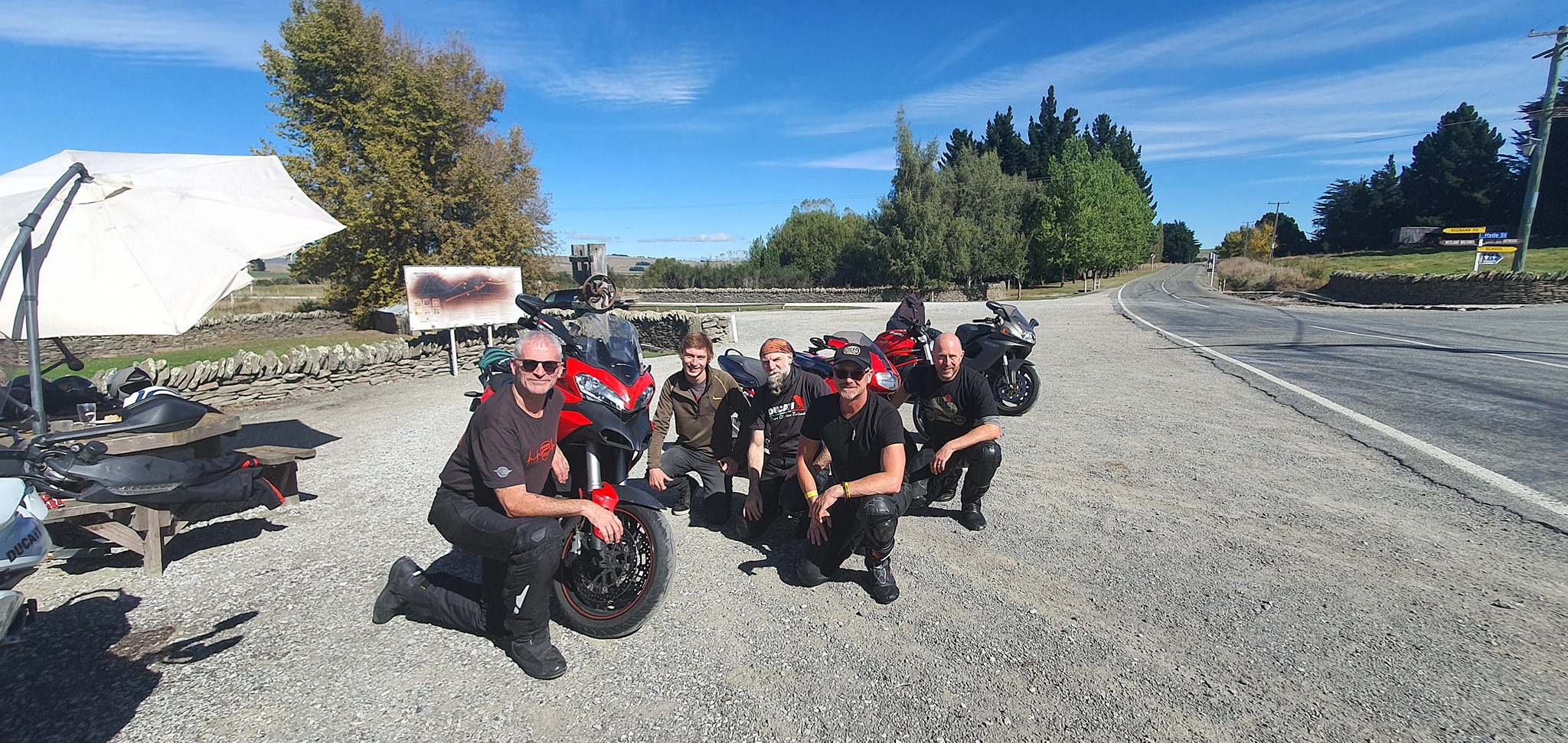 Group photo at Macreas Historical Tavern (Photo Credit: Chris Ferguson)
This is where the group kind of broke up a couple we back via Middlemarch a few were going to ride up to Kyeburn and then back vai Middlemarch while I said I will ride to Palmerston and back down State Highway 1.  Following a couple that were going to Kyeburn. I buttoned off a bit as I was sort of kind of looking to a spot to take a photograph but didn't really find a suitable stop so I continued and they were waiting for me at the turn off. They were not sure which way it was to Dunback... They followed me a KM up the road to the petrol station where they filled up and turned round to go to Kyeburn and I continued to Palmerston.
The only other report was going up the Kilmog a tanker pulled out to over take a car which was fine till I even saw the car speed up... and I was coming up behind on this tanker at a great rate of knots... I did have to apply the slowing devices as the tanker had to wait for the car to get ahead so he could pull back in to the slow lane. I gave the tanker driver a wave and the driver the finger...
All went smoothly till nearly another incident with a car on the motorway not checking when changing lanes and nearly side swiped another car... Come on New Zealand we know you can drive better than this...

Other than that an awesome ride... over all the roads were in pretty good nick awesome weather and was great to meet a a few new people from the Ducati Owners Club New Zealand or DOCNZ.

Regards
Nighthawk