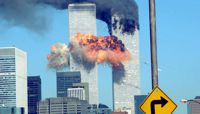 Author:

Dan Satherley
The evidence: You might have heard the popular internet phrase, 'Jet fuel can't melt steel beams.' Essentially - and correctly - truthers believe jet fuel can't burn hot enough to melt steel beams. 
Details

Category: Conspiracy
Hits: 22
Read more: The conspiracy theories the internet used to believe
:
For all of the celebrations surrounding the first manned lunar landing of Apollo 11 in 1969, what is forgotten today is just how close they and the other Apollo missions flew to the edge of disaster.
Details

Category: Conspiracy
Hits: 43